Please Like & Share Us
Details

Category: Kasaragode
Oyster Opera at Padanna
Situated amidst avenues of coconut tress and crisscrossed by canals and fanned by backwaters the retreat has everything natural at its core of existence and functioning. It is located at Padanna, near Cheruvathur in the District of Kasaragod.One man's passion to enhance the livelihood of his fellow villagers has now culminated in the form of a retreat, and the first theme village of Kerala. That is Oyster Opera at Padanna with oyster farming as its theme. It is now a source of income to thousands and a destination for those who would love to be part of the very best of available natural settings.Facilities out here at Oyster Opera reflect the cultural and traditional traits of the local people. Here, the villagers play host during your stay at the retreat. The whole ambience does not have the sophistication of modern day resorts and the visitors are bound to appreciate this aspect the moment they land at Padanna and till they bid goodbye
. But saying goodbye to Padanna is never easy. Because such is the kind of satisfaction and pleasure that you get here, it makes you yearn for more.The resort has, as mentioned earlier, natural interventions in almost all of the facilities offered to its guests. Be it the restaurants, where you get to relish many of the local mouthwatering delicacies, including green mussels and clams or your place of dwelling, toilets and bathrooms. Currently at Oyster Opera, guests have option to go for three Cottages on land, one Float House, one Elevated House with well equipped kitchen, occupancy for two, veranda, toilet and bathroom.Once at Padanna, one can literally explore every inch of the village on your own. The brackish water of Padanna and its surrounding villages are endowed with great natural beauty.
Nearby the retreat one could visit a number of tiny palm-fringed islands and also coconut lagoons and mangroves. Or else, one may engage in small talks with the villagers as they go by their routine activities of oyster and seaweed farming or else may take a close look at their fresh catch of clams and edible oyster. The nearby vast beach and the estuary here are worth visiting and one could also spot wild beavers in a couple of nearby islands. The backwaters at Padanna are nourished by five rivers, which later join the Arabian Sea.At Padanna, visitors to Oyster Opera can also go for delightful backwater cruises in houseboats, country boats, feel the sun and the sand on the Valiyaparamba Beach and estuary or opt for rejuvenation therapy by traditional practitioners of Ayurveda, a boat-ride through River Thejaswini passing by the woods and fields, learn fishing techniques by using strings, nets and bare hand, or go for a moonlit backwater cruise in a country boat. Some of the nearby attractions of Padanna include the historic Bekal Fort; the Parassinikkadavu Temple noted for its unique rituals; Karim Forest, a manmade forest owned by a nature enthusiast and during the season, one can also witness Theyyam, one of the popular and resplendent ritual art forms of the region.
SEO Court Directory
Details

Category: Kasaragode
Sri Mahalingeswara Temple
-
5.0

out of

5

based on

1

review
Sri Mahalingeswara Temple

At Adoor, about 45km from Kasargod, this ancient temple dedicated to Lord Siva has a transliterated inscription of Sanskrit in Kannada which is related to the Western Chalukya King Kirthivarman II of 745-755 AD. The environs of the temple are enchanting sylvan region which also has a rejuvenating river, "The Payaswini".
Details

Category: Kasaragode
Kanwatheertha Beach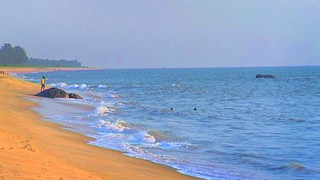 This is the favorite hangout of many. The natural extension of the waters in a calm pool like formation is ideally suited for swimming. It is 3 km north of Manjeshwaram, has a large swimming pool lake, and a beach of 4 km. length. The swimming pool is formed by sea water in the neat vast beach is one of the gifts of nature
Kappil Beach -Chinese Fishing Nets Fort Cochin-Vasco da Gama Square-Fort Kochi Beach-Cherai Beach, Cochin-Varkala Beach Resort-Shankhumugham Beach & Veli Tourist Village-Kovalam Beach
Details

Category: Kasaragode


Valiyaparamba
This beautiful backwater resort studded with picturesque little islands, greeted by four resplendent rivers attracts a number of visitors. The resort which also offers pleasure boating is only about 30km from Bekal.

Manjeswaram


Sanctified by several centres of worship, the place also has a high yield of the cash crop "cashew". The two beautiful Jain temples here are situated on the banks of the enchanting river Manjeswar.The century old Gothic styled Roman Catholic Church, known as the Mother Dolorus Church is about 11km from Kumbla.The oldest church in the district, "Our Lady of Sorrows Church" was built in 1890.Manjeswaram also has the memorial of Govinda Pai, the forerunner in Kannada literature.
Anandasram
This tranquil place is about 15km from Bekal.Founded by Swamy Ramdas whose spiritual aura attracted disciples and followers from India and abroad. This is an ideal place for meditation and spiritual endeavors.
Thiruvallam Backwaters--- Backwater Tourism in Kerala--North Kerala Backwaters--North Kerala Backwaters---Kumarakom Backwaters--Kochi Backwater Holidays-Backwaters of Kerala-Backwater Holidays in Alapuzha